How does Chlorine Dioxide get rid of Avian Flu?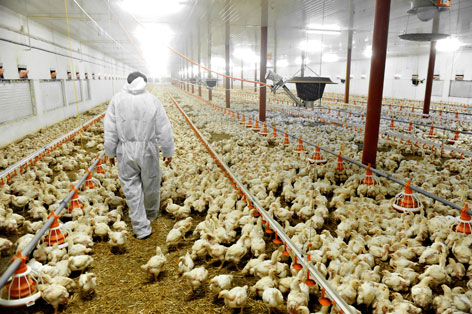 What is Avian Flu?
Avian flu is also known as avian influenza and bird flu. It is a viral illness caused by subtypes of the influenza A virus. As the name indicates, it is primarily a disease of birds. However, some strains of the bird virus can infect humans as well, sometimes leading to serious illness. The natural reservoir for avian flu virus is wild aquatic birds such as ducks and geese. In these, the virus causes a mild seasonal illness that is rarely fatal. It's when the virus is transmitted to domestic fowls such as chicken and turkey that it can become deadly. Some strains of avian flu can kill more than 90% of infected birds in a matter of days.
What is its Mode of Spread?
The avian flu virus is present in the saliva, nasal secretions, and feces of infected birds. It will spread rapidly within a flock of poultry fowl. It will also spread to persons who are in close contact with such birds, such as workers and handlers. Transmission from person to person is possible though unusual. You cannot get the virus from eating properly cooked chicken.
How can we Prevent Avian Flu?
Preventing avian flu requires multiple measures. Sources of infection have to be eliminated and modes of transmission have to be checked. Sometimes, entire flocks of poultry birds have to be culled. Workers and handlers are required to wear personal protective equipment such as gloves, gowns, and face masks. Patients suspected to have contracted the virus are isolated from others. They are treated with certain antiviral medications. One such drug is oseltamivir. Oseltamivir is also recommended for people who have been in close contact with sick birds even though they haven't developed any symptoms yet.
How does Chlorine Dioxide get rid of Avian Flu?
The CDC provides a number of guidelines for the control of avian influenza in healthcare settings such as hospitals, nursing homes, and clinics. One of the recommendations is proper cleaning and disinfection of environmental surfaces. In the following lines, we want to explain to our audience why we believe chlorine dioxide is the best disinfectant for environmental surfaces, and therefore, an effective means of getting rid of avian flu.
Avian flu is viral in origin. So, for a disinfectant to be effective against it, it should be a virucide. A virucide is a chemical agent that can kill viruses. Chlorine dioxide is a potent virucide. It is effective against a range of viruses including influenza A virus which is the cause of avian flu. Cleaning and disinfecting environmental surfaces in healthcare settings with chlorine dioxide ensures protection against this viral illness.
In addition to healthcare settings, its potent virucidal action makes chlorine dioxide a great choice for use as a surface disinfectant at poultry farms and egg ranches. Whether you are related to chicken or turkey farming, you must be well aware of the devastation that certain strains of bird flu can cause.
Entire flocks may die in days or need to be culled if found to be infected. For businesses based around poultry, this can translate to financial disaster. Keeping your farms and ranches clean and disinfected with chlorine dioxide can protect you, your workers, and your fowl from avian flu. It can also save you from a costly outbreak.
Our specially designed chlorine dioxide delivery systems ensure protection and convenience. PERFORMACIDE® enables you to generate instant chlorine dioxide wherever you want it. The sachets are portable and easy to use. All you need to do is add water. What you will get is a chlorine dioxide solution that is an effective virucide.
PERFORMACIDE® is a patented, point-of-use, ClO2 generator pouch system. When the generator pouch is immersed in water (like a tea bag), it creates a concentrated ClO2 solution which has passed all EPA requirements for use as a Disinfectant, Sanitizer, Tuberculocide, Virucide*, Fungicide, Algaecide, Slimicide, and Deodorizer.
Formulated for hospital use, PERFORMACIDE® ClO2 is a powerful disinfectant but does not leave harmful residues. PERFORMACIDE® can be sprayed, mopped, or sponged and allowed to air dry, so there is no risk of spreading microorganisms to other surfaces. Unlike ordinary bleach dilutions which only last 24 hours, PERFORMACIDE®'s activated solution remains effective for 15 days when properly stored.
About PERFORMACIDE®
PERFORMACIDE® is a suite of unique point-of-use ClO2 generation system products for use as a Disinfectant, Sanitizer, Tuberculocide, Virucide*, Fungicide, Algaecide, Slimicide, and Deodorizer. Applications include hospitals, medical facilities, veterinary hospitals & kennels, public areas, first responder facilities and equipment, clinics, rehabilitation facilities, diagnostic centers, food processing and serving facilities & beverage bottling facilities and more.
PERFORMACIDE® Hard Surface Disinfectant is an EPA registered for killing Methicillin Resistant S. aureus (MRSA), Staphylococcus Aureus, Listeria moncytogenes, Pseudomonas aruginosa, Salmonella, Trichophyton mentagrophytes (Athletes foot), Vancomycin Resistant, Enterococcus faecalis, Mycobacterium Bovis (TB), Candida albicans, E Coli and Klebsiella pneumonia. PERFORMACIDE® is an EPA registered virucide for non-enveloped viruses including; Ebola, Adenovirus type 5, Coronavirus, HIV-1, Hepatitis A, Herpes Simplex-2, Poliovirus-1, Influenza A, Canine Parvovirus, Norovirus, Feline Calicivirus, Rhinovirus, Rotavirus and Vaccinia Virus.
PERFORMACIDE® is manufactured by OdorStar, LLC with headquarter offices in Fort Lauderdale Florida. http://odorstar.com OdorStar, LLC 4041 SW 47th Ave Fort Lauderdale Florida USA