Removing Pet Odors, Urine Smells, Viruses, and Germs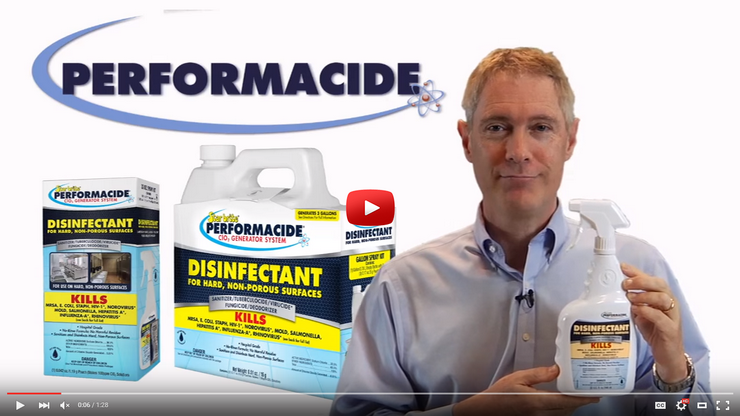 If your dog or cat has an accident or goes to the bathroom where they shouldn't, clean it up and immediately spray the area with PERFORMACIDE® Hard Surface Disinfectant. The powerful ClO2 oxidation action will quickly kill harmful germs, and the smell will disappear instantly, without leaving any harmful residue for sensitive paws to absorb or to lick.
If your cats or other pets mark areas with urine, simply spray the area with PERFORMACIDE®.  It will disinfect, kill odor-causing bacteria, and help prevent repeatedly marking the same spot.
No other product can accomplish what PERFORMACIDE® does to control pet odors, and without the need to wipe or rinse. 
Preventing Canine Influenza A in Veterinary Offices
Canine Influenza A Virus is a virus that is easily transmitted among dogs. Although Canine Influenza A doesn't live long outside of the body, it can spread easily inside of Veterinary offices or veterinary care kennels used for housing ill dogs. Using the correct EPA registered disinfectant in Veterinary offices to prevent the spread of Canine Influenza A in dogs is essential to the canine patient's health and recovery. PERFORMACIDE® is EPA registered for use against Canine Influenza A Virus in Veterinary offices, and other animal care facilities.
Killing Canine Parvovirus in Veterinary Clinics
One of the biggest concerns of dog owners is Canine Parvovirus, more commonly referred to as Parvo. A number of puppies and dogs die or are treated for Canine Parvovirus each year in Veterinary Clinics the United States. A simple and inexpensive vaccine could easily protect the dog from this deadly disease, however; many pets go untreated. Once a puppy or dog with Canine Parvovirus has been introduced to veterinary clinics, it can turn into an epidemic. PERFORMACIDE® is one of the few EPA-registered hard surface disinfection products for Canine Parvovirus.
Reducing the Spread of Feline Calicivirus in Kennels and Catteries
Feline Calicivirus (FCV) is more common than many cat owners would think. The main problem being FCV vaccination does not always prevent infection, so Feline Calicivirus remains an issue. PERFORMACIDE® is EPA registered for use against the spread of Feline Calicivirus in kennels and catteries.
PERFORMACIDE for Veterinary Offices, Clinics, Kennels and Catteries
PERFORMACIDE® is a miracle product for veterinary offices, veterinary clinics, kennels, and catteries. It is EPA registered against Canine Influenza A, Canine Parvovirus, and Feline Calicivirus. The best thing about PERFORMACIDE® is that it is simple to use. Simply spray it on hard surfaces, and let it air dry. It leaves no harmful residue that could adversely affect the dogs and cats in the care of Veterinary offices, veterinary clinics, kennels, or catteries.